Video marketing trends are evolving at a rapid pace. If you're not adapting to these new changes and properly utilising them, you could be losing out on marketing opportunities which otherwise would have been right in front of your face.
In this article, we will be talking about video marketing trends that are going to dominate the world in 2023.
Marketers who participated in a Wyzowl survey said that businesses that embrace video marketing perform the following:
Boost the brand's awareness

Develop a better lead generation strategy

Increase sales

Reduce the number of support calls

Generate more traffic

Make products and services more understandable to customers
It is estimated that 86% of companies recognize these benefits when it comes to video marketing and utilise it in their marketing plans. 
10 Video Marketing Trends for 2023
A video marketing campaign allows you to reach out to potential buyers in a creative and fun way. To incorporate video marketing into your overall marketing strategy in 2023, here are the top trends.
The most popular video trend on social media is user-generated content (UGC). UGC is real people talking about your product and how it has helped them. Your product can be demonstrated in its natural form with these videos. In a world of seemingly endless digital noise, UGC cuts through the clutter by being authentic. 
TikTok videos and other platforms' similar features make authentic content crucial to connecting with your audience. When creating your 2023 strategies, keep in mind that UGC is 2.4x more likely to be viewed as authentic than branded content, according to a Stackla study. 
What is the importance of authenticity for brands? Consumers also said that authenticity was an important factor when determining which brands to support, according to the same Stackla study.
Digital communities will continue to thrive due to the human element they provide in our online spaces as people slowly recover from the pandemic. Brands must ensure their video content communicates effectively in the language of these burgeoning communities. Getting involved early with emerging trends and conversations is one way to achieve this. 
Through your content, your brand can embed itself in social communities through on-trend creativity. In addition, you can connect with your audience more effectively and optimize your upcoming social media video marketing campaigns by joining these communities. 
3. Use of Various Platforms
Channel diversification is one of the key trends in video marketing. To reach audiences across the new social landscape, marketers must diversify their platform mix. 
Each social channel has unique targeting advantages, so publishing across multiple channels is crucial to growing, converting, and retaining your entire audience. You must be present on all platforms where your audiences are conversing online if you want to engage with them.
There are several platforms with diverse audiences, such as TikTok, Snapchat, and Pinterest, which offer marketers a low-cost opportunity to grow their business. Social platforms are increasingly common among users of all ages, although typically dominated by younger generations. 
4. Evolution of Audience Targeting
In addition to keeping up with video marketing trends, we'll also need to be updated with data privacy laws as they change. In the future, it will become more difficult to target audiences, even on social media. The changes are occurring at a time when social media is flooded with users and video content, presenting brands with unique challenges. 
In the world of social platforms, you can serve audience-specific social content to verified users with advanced audience-targeting capabilities. Your social media video marketing strategies must resonate with a much broader audience now that you have less analytical information to guide them. 
eCommerce growth surged by 30% in 2020, making it the preferred shopping experience of the 21st century by more than two years. 
Through 2023, all major social platforms will continue to invest in building more effective and engaging social shopping experiences. It gives you more opportunities to create channel-specific lower-funnel videos. In addition to the platform's initial shopping features, TikTok has continued to enhance and add new features, such as shoppable ads and livestream shopping.
6. Educational and Informational Videos
It doesn't matter what you want to learn, there's a YouTube or TikTok video. For this reason, educational videos are one of the top video marketing trends for 2023. 
According to a study of the U.S. and U.K. TikTok users, 24% are specifically using the platform to learn new skills. Think With Google also mentioned that "how-to" is one of the most popular categories on YouTube, which offers your business a great opportunity to educate people. 
Using educational content can help you provide your users with the information they need while simultaneously promoting your brand and products. Consumers will appreciate you knowing who they are and what content they enjoy. 
7. Interactive AR Content
Interactive augmented reality will be one of the content types to look forward to. The advancement of AR throughout 2023 will be worth watching. 
Currently, the feature can take the form of a digitally immersive experience best exemplified by Instagram, Snapchat, and TikTok. Since your brand targets young audiences eager to use new technology, this content is especially important. 
Learn how you can use interactive AR tools for connecting with your audience as more AR tools are developed and similar video trends emerge on social media. 
LinkedIn invitations won't stop anytime soon. Virtual events have become increasingly popular alongside the growth of digital communities. 
By comparison, 35% of global marketing events were held virtually in 2020, while 40% were held virtually in 2022. While we can now meet in person, virtual events still perform well. Taking part in virtual events gives participants access to events they would not otherwise be able to attend. In addition, staying digital often saves people time and money.
9. Influencers and Brands
As with other industries, influencer marketing is constantly evolving. 
In a Deloitte survey, 70% of US respondents said they follow at least one influencer, and roughly 33% said influencers influence their buying decisions. Furthermore, Statista reported that over a quarter – 27.6% – of 16-34 respondents said an endorsement from a trusted influencer was the most effective social media ad. 
More brands will understand the benefits of video marketing with influencers, so social media users can expect more (potentially more complex) partnerships.
10. Connected TV Advertising
With Connected TV (CTV) growing, marketers will shift their ad dollars accordingly. CTV is likely to be added to many marketing teams' 2023 strategies (if they haven't already). With CTV, your brand can be seen on the biggest screen in the house. In contrast to linear television, CTV advertising can be used as a performance platform, similar to social media and search marketing. 
Try incorporating these video marketing trends into your marketing strategy if you want to increase traffic, brand awareness, and sales. You can set up your business for success and set yourself apart from the competition with their help.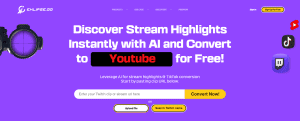 Eklipse.gg Review: Next-Level AI-Powered Stream Highlights Calling all gaming enthusiasts and esports fans! Get ready to embark on an exceptional
Read More »