Looking to create videos whilst working from home?

Hike up your business!


We make your videos stand out
Videos recorded on Zoom, Teams and other platforms can be boring. With our all inclusive VideoHike packages, we can help you make your videos stand out. Adding title, captions, graphics will make your video look more professional-looking. Your video will have more impact.
Your videos can be recorded on your phone, webcam, or camera. Either you do it or we assist you with the recording depending on the package.
Starter Package
Perfect For Personal Branding
You record yourself and give us the footage, up to 3 minutes

Choose your template (vertical or landscape) in our library

We customise colors to your brands

We add titles and subtitles

We add your logo and call to action
Advanced Package
For More Professional-Looking Videos
You record yourself and give us the footage, up to 3 minutes

We edit the video for color grading and audio adjustment

We input pre-created slides or b-roll you provide

Choose your template (vertical or landscape) in our library

We customise colors to your brands

We add titles and subtitles

We add your logo and call to action
Premier Package
We Help You with Filming as well
We help co-edit your script (1 round of revision)

30-min live consulting session on filming your video or we record you directly through Zoom

We edit the video recorded (up to 3 minutes final video): selecting the right sequences, adding transitions, color grading and audio adjustment

We can insert slides that you provide

We create a custom template for you

We customise colors to your brands

We add titles and subtitles

We add your logo and call to action
Elite Package
Custom Video with Graphics Animations
We help co-edit your script (1 round of revision)

30-min live consulting session on filming your video or we record you directly through Zoom

We edit the video recorded (up to 3 minutes final video): selecting the right sequences, adding transitions, color grading and audio adjustment

We add graphics animation (up to 25% of the video, 1 round of revisions)

We create a custom template for you

We customise colors to your brands

We add titles and subtitles

We add your logo and call to action
Additional services to hike up your videos
Custom template for your branding
We add more visual elements (insert slides or animations)
We teach you how to film yourself using a smartphone or camera
We create intro/outro for your brand
We help you with your script
Translations and extra language  
Extra duration or revisions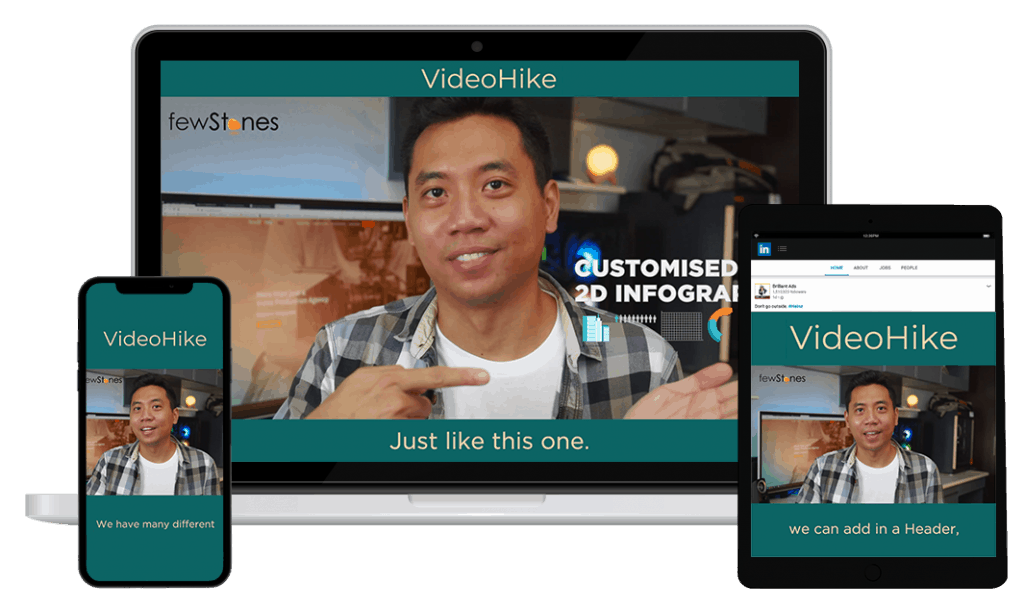 Frequently Asked Questions for